Get a sneak peek! View our bus tour video here.
Following the house tour, join us for a guided farmland tour aboard our 14-passenger bus. The 90-minute tour will take you off the beaten path, past working farms and along country roads where buggies roll along and farmers work their fields.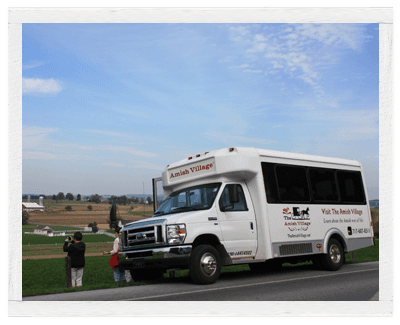 Your narrated bus tour will add dimension to what you learned while touring the homestead. Our knowledgeable guides give you a behind-the-scenes look at Amish life – history, customs, beliefs, traditions – it's all you ever wanted to know.
Each bus tour includes at least one stop at unique locations such as an Amish home, quilt shop, pretzel bakery or bake shop.
Come and ride with us as we explore the beautiful countryside of Lancaster County.
Amish Village Tour:
(Includes guided house tour and self guided farm Tour)
Adults $10
Child (5-12) $6.50
Child (0-4) Free
Bus Tour Only:
(Includes 90 minute countryside bus tour)
Adults $23.00
Child (0-12) $16.00
Premium Package Tour:
(Includes both guided house, self guided farm tour and 90 min countryside bus tour)
Adults $29.00
Child (5-12) $19.00 – (0-4) $16.00
Available Bus Tour Times:
10, 11, 12, 1, 2, 3 & 4