Best Value Amish Tours in Lancaster County
The Amish Village provides an authentic look at today's Amish lifestyle while surrounding you with beautiful Amish farmland. Enjoy exploring our 12-acre village, taking a guided tour of a historic Amish homestead, and hearing about Amish culture while touring Amish countryside.
Premium Package Tour
Get the full value of your experience of Amish culture and history by joining us on a Premium Package Tour. This tour is best suited for visitors who want to know everything they can about the Amish.
Premium Package Tour includes:
25-minute Amish Farmhouse Tour
90-minute Narrated Bus Tour
Self-Guided Tour of the Grounds, Schoolhouse, and Outbuildings
Visitors typically spend a minimum of three hours on site. We recommend making a reservation so you are guaranteed to have enough time to enjoy each tour location.
Visitors also typically enjoy using our Picnic Grounds for a quick bite in between exploring our Windmill & Water Wheel, Amish Barn and Farm Animals, One-room Schoolhouse, Smokehouse Market, Blacksmith Shop, and our Amish Village Store.
More Tour Options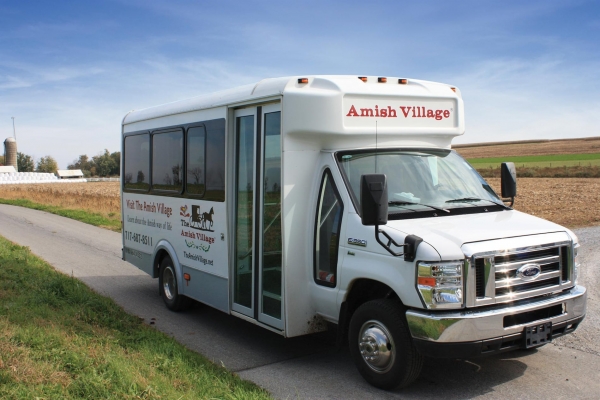 Backroads Bus Tour
See how present-day Amish live alongside today's more modern culture by taking a bus tour through Lancaster County's backroads. Learn about Amish traditions while riding in comfort.
Travel off the beaten path and enjoy the following:
90-minute tour of Amish countryside
Narrator providing education on traditions, culture, and lifestyle
At least one stop at a local Amish business (except Sunday}
Intimate setting, with up to 14 seats
Temperature-controlled environment
Buses depart starting one hour after opening. Tickets are available for purchase on location, or as part of a Premium Package Tour. We have options for accommodating large groups as well as providing a Step-On Guide for motor coach groups.
Tour Details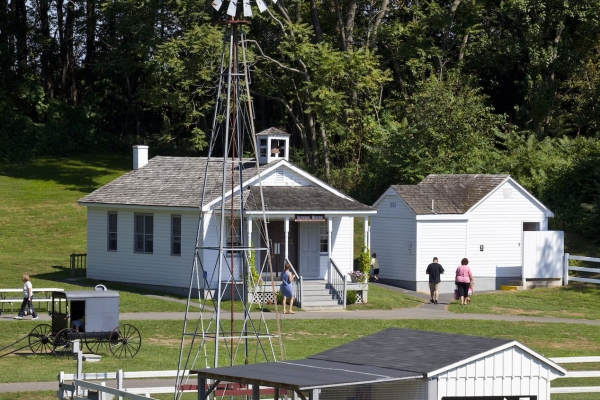 Amish Farmhouse & Village Tour
Hear stories of Amish history, lifestyles, and traditions within the setting of an authentic Amish Farmhouse built in 1840. Get a firsthand look at how Amish communities have adapted to living in today's era.
A Lancaster County favorite, this tour has a lot to offer:
25-minute guided tour of the house
Informed guide ready to answer visitor questions
Authentic Amish furnishings
Self-guided tour of the Village
Self-guided tours take our visitors across 12-acres of property, including a one-room schoolhouse, a blacksmith shop furnished with tools, and an Amish barn with a variety of friendly animals. It is a true representation of how the Pennsylvania Amish live in Lancaster County today. Tickets are available for purchase on site, and tours start every 15 minutes.
Tour Details
Groups & School Field Trips
The Amish Village provides a genuine representation of how the Amish live in Lancaster County. Our tour guides are equipped to educate large groups and school classes about the Amish community's history, traditions, and culture. To best accommodate you, please complete a reservation form for your group at least two weeks before your trip.