School students will get a first-hand look at Pennsylvania Amish culture on a class trip to the Amish Village in Lancaster County.
Visiting the Amish Village is a great way for school students to learn about a culture that has remained relatively unchanged in nearly 300 years. Our staff will help you plan the details of your field trip and make sure your kids get the most out of their educational experience.
We can accommodate multiple busloads of students, and you'll find our staff easy to work with. They will be happy to tailor a class trip to fit the needs of any group of students. Just contact our office and we can help plan your trip to the Amish Village.
Student tours and class trips start out with a 25-minute guided tour of our authentic Amish Farmhouse, where a local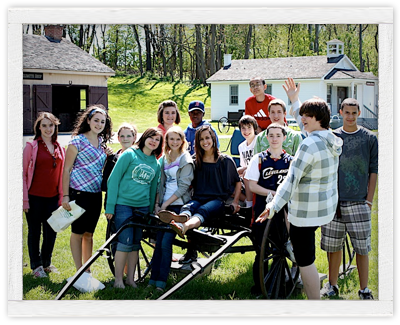 tour guide will explain the history, culture and religious traditions of the Amish in Pennsylvania. While our student tours are geared to the entire K-12 age range, our guides can easily tailor the tour for either younger or older students.
At the conclusion of the Amish house tour, your local guide will escort the students as they explore the rest of our property. During this time, students can ask questions about the Amish lifestyle today while they explore our 12-acre Village Grounds. During your visit, you'll always have someone on hand to answer questions and enrich the students' Amish experience.
Plan Something Special for Your Students
Teachers and school administrators who have something specific in mind for a trip to Amish Country should be sure to contact us to discuss their plans. Whether it involves spending time with the farm animals at the barn, or a unique teaching experience in our one-room schoolhouse, we're happy to customize a Lancaster County Amish experience just for your students.
You can even send outlines and curriculum ideas to our staff, and together we'll develop the perfect class trip for you and your students. Just be sure to leave enough time to work with us to plan your visit. Generally, 2 weeks is required to customize a student tour or class trip.
Groups must be 20 students or more, and will receive discounted pricing from the standard admission. Pricing is based on the time of year and any specific needs or requests your class may have. Contact us for specific rates for your student tour or class trip.
School Tour Details
Duration:
Amish House Tour, 25 minutes
Property Tour, 30 minutes
Customized Experience, based on activity
School Groups:
Students (K-5) $5.75
Students (6-12) $6.75
Scheduling:
Student tours must be scheduled in advance, generally two weeks prior to arrival. Teachers and school administrators can call 717-687-8511 or contact us online to reserve a tour time prior to your arrival in Lancaster County (deposits are required).