Amish Heritage And Village News
Want to learn more about Amish traditions, culture, and heritage? Want to see how The Amish Village changes over the seasons? We pack our blog with helpful articles all about the Amish culture and some news about The Amish Village.
5 Reasons to Explore The Amish Village this Summer
June 27th, 2017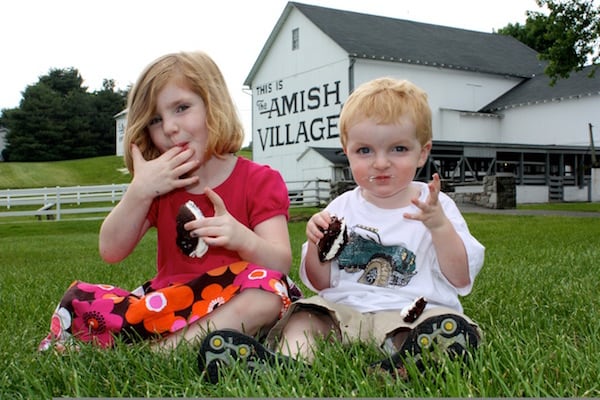 School's out, and it's a time when parents everywhere line-up fun summer activities to entertain the kids. Lancaster County holds countless destinations for summer adventures, but in the heart of Pennsylvania Dutch Country sprawls one of the top spots for anyone looking to combine enjoyment, exploration, and education: The Amish Village.
While open year-round, summer is a special time at The Amish Village. To make it easy, we pulled together five of the top reasons to make The Amish Village a part of your summer fun:
1. A great experience for people of all ages
From the moment you arrive, your family is transported into a different way of life. There's something for everyone to explore: guests of all ages enjoy our 25-minute guided tour through an authentic 1840s Amish farmhouse. After your tour, your family can take a leisurely stroll through our 12 acres of farmland. The barnyard, windmill and water wheel, and the blacksmith shop captivate kids. Parents, grandparents, aunts and uncles can purchase local food at the Smokehouse Market or Amish handmade crafts at the Amish Village Store.
Extend your experience by packing a lunch to enjoy at our picnic grounds. This scenic space is ideal for snapping family photos and soaking up some family quality time.
2. A way to get "unplugged"
The Amish community is known for its low-tech way of life, giving new meaning to being unplugged. Imagine your kids living without the distraction of cell phones, televisions, computers and video games. Get unplugged, and see how people live without relying on the many electronic gadgets we count on every day. Learn how Amish children spend their summer hours, and how the Plain community thrives without most of today's modern conveniences. But, be sure to ask how cell phones play a role in Amish businesses!
3. An entertaining education
The Amish Village was recently named on of the "10 Best Educational Activities for Children in Pennsylvania" by Best Things Pennsylvania. In addition to learning about the Amish during your guided tour, we continue the educational entertainment throughout the grounds. Our one-room schoolhouse features homework and lessons from real Amish students. The Blacksmith shop displays real Amish buggies and farm equipment for kids to see and touch. The authentic displays are so fun, kids don't even realize they're still learning even when school is out.
4. Home to baby animals
Like most farms, The Amish Village features a barnyard filled with all the sights and sounds of a working barn. This includes animals! In the Spring we were happy to welcome a few new baby animals to our barnyard, including a new calf named Freddy and a baby lamb named Lucy. Unlike a real farm, none of the animals are for sale. You can, however, purchase food if you would like to feed them by hand!
5. Air conditioned options
Nothing makes you appreciate air conditioning quite like a warm summer day. See the Amish lifestyle in action in Lancaster County while enjoying our air-conditioned Backroads Bus Tour. This 90-minute adventure will afford you some beautiful farmland views while the tour guide shares stories of how the Amish live and work the land. This tour includes at least one stop at an Amish business.
If you're one who enjoys a mix of indoor and outdoor activities, reserve a space on our Premium Package Tour. You can enjoy the Farmhouse and Village experience first, and then hop on a bus to view more of beautiful Lancaster County and the Plain community.
Make the most of your vacation or staycation this summer in Lancaster County by treating your family to a trip to The Amish Village. It's not only a fun way to spend a summer day, but you'll also learn more about the unique culture and lifestyle of the Amish. Farmhouse and Village tours and Backroads Bus tours do not require pre-purchase, but Premium Package Tours should be booked ahead of time. (Learn more on our Info & Rates page.)