Amish Heritage And Village News
Want to learn more about Amish traditions, culture, and heritage? Want to see how The Amish Village changes over the seasons? We pack our blog with helpful articles all about the Amish culture and some news about The Amish Village.
Experience a Lancaster County Mud Sale
March 22nd, 2023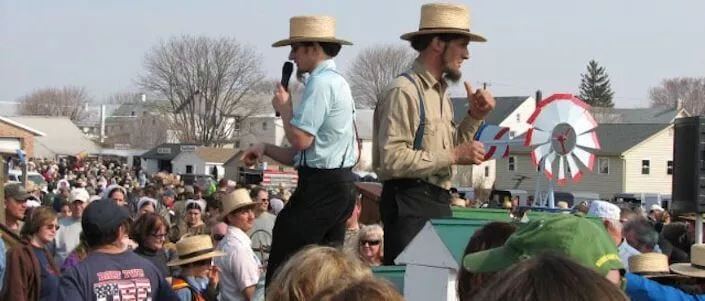 In addition to being known as one of the best places to experience and explore the Amish culture, Lancaster County is also synonymous with quality craftsmanship, farm fresh produce, and a work ethic that ensures products and services are true to their claims. And, while families travel to Lancaster, PA to experience live performances at Sight and Sound Theatre and American Music Theater, shop Tanger Outlet, or explore small towns like Lititz or Intercourse, many are also on the hunt for that special keepsake to take back home. One of the best ways to do this is by attending one of Lancaster County's many Amish Mud Sales.
Amish Mud Sales are a Lancaster County tradition and refer to annual auctions or sales of goods to benefit local fire companies. The name is a nod to the thawing ground in late winter and early spring, the time mud sales were traditionally held; but now, mud sales take place into October. 
If you're attending a Lancaster County mud sale, you'll have some company. These sales attract thousands of people looking for bargains on anything from Amish quilts and antiques to lumber, buggies, and unique machinery. And, when it comes to buying – you're bidding. A typical mud sales multiple, simultaneous auctions to sell the goods. Pro tip: If you are your eye on something, don't be shy in sharing your bid. 
2023 Mud Sale Schedule 
April 1
Robert Fulton Sale
Robert Fulton Volunteer Fire Company
2271 Robert Fulton Highway (Routes 272 & 222), Peach Bottom, PA 17563
717-548-8995
April 14 & 15
Rawlinsville Mud Sale
Rawlinsville Volunteer Fire Company
33 Martic Heights Drive, Holtwood, PA 17532
717-284-3023
April 15
Schoeneck Fire Company Mud Sales
Schoeneck Fire Company
125 N. King Street, Denver, PA 17517
717-336-6767
May 6
Fivepointville Auction
Fivepointville Fire Company
1087 Dry Tavern Road, Denver, PA 17517
717-445-4933

May 13
Honey Brook Quilt Sale & Consignment Auction
Honey Brook Fire Company
Romano 4H Center, 1841 Horseshoe Pike, Honey Brook, PA 19344
610-273-2688
May 19 & 20
Weaverland Valley Mud Sale
Weaverland Valley Fire Department
210 Lancaster Avenue, Terre Hill, PA 17528
717-445-7066

June 10
Kinzer Fire Company Mud Sale
Kinzer Volunteer Fire Company
3521 Lincoln Highway East (Route 30), Kinzer, PA
717-442-4121
June 29 & 30
Lancaster County Carriage & Antique Auction Bird-in-Hand
Bird-in-Hand Volunteer Fire Company
313 Enterprise Drive, Bird in Hand, PA 17505
717-392-0112
June 23 & 24
Refton Fire Company Mud Sale
Refton Volunteer Fire Company
99 Church Street, Refton, PA 17568
717-786-9462
August 26
Bareville Fire Company Consignment Auction
Bareville Volunteer Fire Company
211 East Main Street, Leola, PA 17540
717-656-7554
September 16
Gordonville Fall Mud Sale & Auction
Gordonville Fire Company
Old Leacock Road, Gordonville, PA 17566
717-768-3869
October 21
Cochranville Fire Company Mud Sale
Cochranville Volunteer Fire Company
3135 Limestone Road Cochranville, PA
610-593-5800
Want to learn more about Amish traditions and customs? Try our Premium Tour to experience our Amish farmhouse tour, 12-acre property tour, and 90-minute Backroads Bus Tour.