Amish Heritage And Village News
Want to learn more about Amish traditions, culture, and heritage? Want to see how The Amish Village changes over the seasons? We pack our blog with helpful articles all about the Amish culture and some news about The Amish Village.
Harvest Season on the Amish Farm
August 23rd, 2021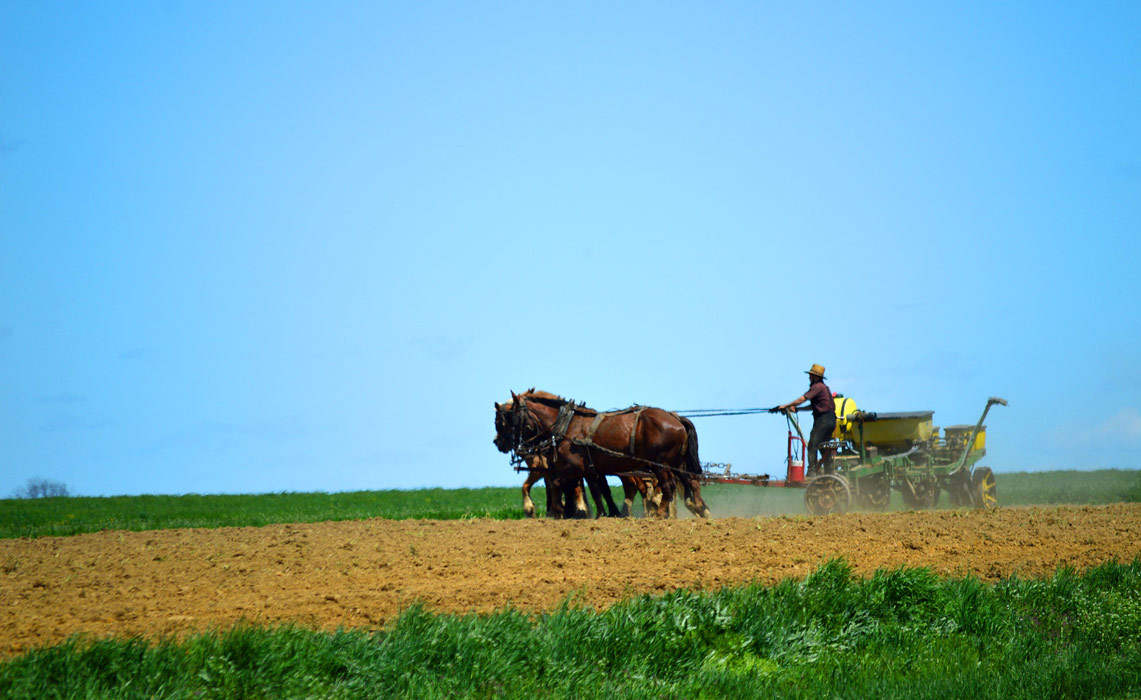 If you've visited or live near Lancaster County, you know that farming plays an important role in our economy. In the summer and fall months, it's not unusual to pass several Amish road-side stands as you travel through PA Dutch Country. Most Lancastrians love summer because it means fresh strawberries, cucumbers, corn, and fresh-cut flowers. There's something extra special about getting freshly picked produce from an Amish farmer down the street.
As summer produce starts to wind down and we start to feel the changing of the seasons in the air, the Amish are still busy working in their farm. In fact, August and September are still busy months for the Amish as they prepare for what's known as the "Harvest Season" – the time when farmers get to see the reward from their growing season. Here are a few of the local favorites that add to the beauty of harvest time in Lancaster County.
Tomatoes & Peppers
There is often an abundance of tomatoes and peppers at the end of the summer, which is the perfect opportunity for many Amish families to start canning. This is the process in which food is sealed in a jar to preserve it for future use. Learn more about canning in this blog.
Corn
Corn is a summer staple for local families, Amish and non-Amish, and accounts for over one million acres of farmland in Pennsylvania. The supply of Sweet Bread and Butter corn typically begins to dwindle in late summer, however, many Amish plant Field Corn crops for a fall harvest to feed their livestock over the winter. (You can tell the difference by looking at the corn stalks. Field Corn is taller and has fuller leaves.) When the final Field Corn harvest is completed, the silos are filled up and ready for winter!
Wheat
Wheat is harvested once it reaches its final stage in the growing process — typically in September — when it's dry and no green is showing. Wheat is used in various forms such as starch, malt, gluten, and alcohol. Wheat can also be used in non-food products such as play-doh, glue, and kitty litter.
Tobacco
In September, the beautiful green fields slowly turn to a golden color signaling that it's time to harvest the tobacco. This is a very labor-intensive task and you will often see entire Amish families assisting with this chore of cutting stalks, gathering them on a wagon, and hanging them in the barn to dry.
Pumpkins
Nothing says fall quite like pumpkins, and there is certainly an abundance here in Lancaster County. When the pumpkins turn orange in the pumpkin patches, it's time to pick them and prepare for sale. Pumpkin seeds are also a favorite! For a tasty treat, try roasting them with some olive oil and salt.
The Fall season is a beautiful time of year in Lancaster County! To see for yourself, check out some of our tour options. With our Backroads Bus Tour, you will discover some of the best views of Amish farmland and make a stop at an Amish home or Amish-run business. We'd love to show you around!