Amish Heritage And Village News
Want to learn more about Amish traditions, culture, and heritage? Want to see how The Amish Village changes over the seasons? We pack our blog with helpful articles all about the Amish culture and some news about The Amish Village.
Recipe | Pumpkin Whoopie Pies
October 6th, 2015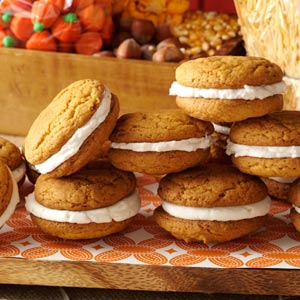 The fall season is the perfect time of year for all things pumpkin here in Lancaster County. Pumpkin Pie, Pumpkin Roll, Pumpkin Decorations, Pumpkin Wagons, but most of all Pumpkin Whoopie Pies!
On the blog today we are going to share our favorite Pumpkin Whoopie Pie recipe from the cookbook titled Amish Cooking: Specialties of Lancaster County. This cookbook is one of The Amish Village's favorite and can be purchased in our Gift Shop or our Village Store.
Shopping List
Cake
2 Cups Pumpkin
2 Egg Yolks
2 Cups Brown Sugar
1 Cup Vegetable Oil
1 Teaspoon Cloves
1 Teaspoon Cinnamon
1 Teaspoon Ginger
1 Teaspoon Salt
1 Teaspoon Baking Powder
1 Teaspoon Baking Soda
1 Teaspoon Vanilla
3 Cups Flour
Filling
2 Egg Whites
2 Teaspoons Vanilla
2 Tablespoons Flour
2 Tablespoons Milk
1½ Cup Vegetable Shortening
1 Pound 10X Sugar
Cake: Preheat the oven to 350 degrees. Line two cookie sheets with parchment paper. Mix the cake ingredients together and place scoops of the batter onto the prepared cookie sheets (about 12 per sheet). Cook for 8-10 minutes.
Filling: Beat egg whites till stiff. Add vanilla, flour, and milk. Beat well and add shortening and sugar (the more you beat the fluffier it gets).
Using a scoop, place a dollop of the filling in the center of the flat side of one cake. Place a matching piece of cake against the filling and push to spread the filling evenly between the two halves. Repeat until all of the pies have been filled.
Want to purchase Pumpkin Whoopie Pies for a wonderful Fall treat? Be sure to visit our Smokehouse Market, located on our Village Grounds, and purchase a few for the entire family!