Visit Amish Country in PA for a Genuine
Pennsylvania Amish Experience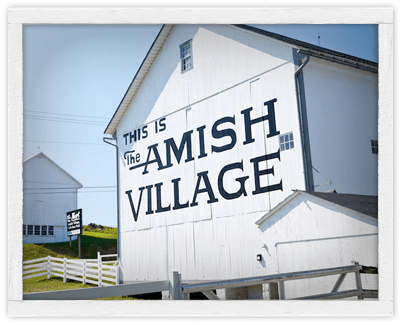 When you visit The Amish Village in Lancaster County, you'll get a local's view of how an Amish community works and lives in Lancaster County today. The Amish Village is more than just an attraction for visitors to Amish Country, Pa. It's a way to experience the Amish culture — one that has changed little in almost 300 years!
As part of your visit to The Amish Village, you'll take a guided tour of our authentic 1840 Amish farmhouse. After your farmhouse tour, you're free to explore our 12-acre Village Grounds that include:
A one-room Amish schoolhouse
Barn with farm animals
Smokehouse Market for Amish-made jams, apple butter, whoopie pies and more
Blacksmith shop
Amish-made crafts and souvenirs
Buggies, plows and tools on display
Explore our interactive map to see the types of things you'll discover during your visit to Strasburg Pa's Amish Village, and what you can expect on a guided tour.
Click here to check our hours of operation prior to your visit. We're looking forward to welcoming you to Lancaster County!